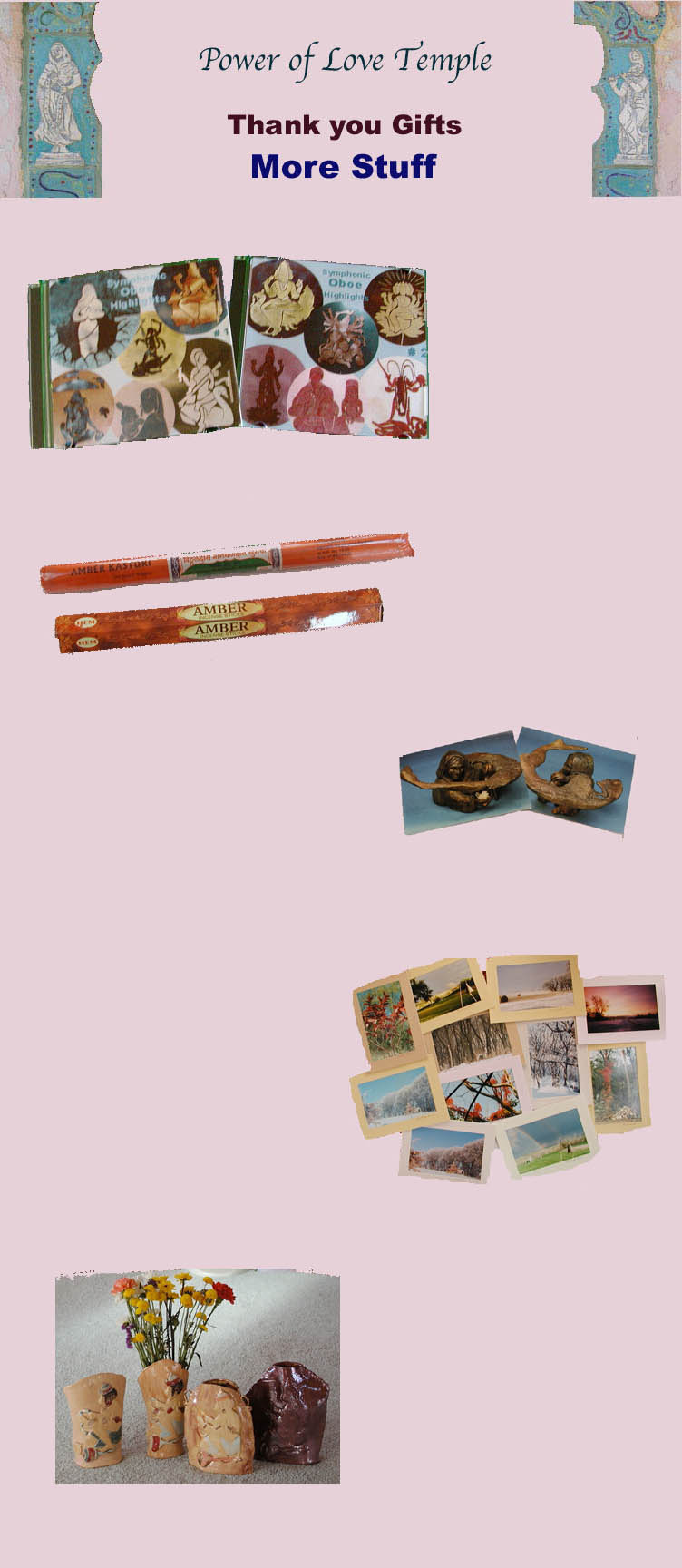 Symphonic Oboe Highlights I & II
The oboe cds are samplers of western music featuring mostly slow movements of great lyric beauty, and not only exquisite sounds of oboe and English horn but all others orchestral instruments (even a bass oboe). These selections are both educational and edifying. The listeners can get a feel for Western music that may open the door to further learning and deeper inspiration.
While you are sitting behind that computer looking at this website and wishing you could actually be here - why not burn some amber incense. This is our favorite scent and if you want a tube of it, we would be happy to send it. The minimum donation to help us cover our expenses and to support the temple is $5. Yes, you can purchase this cheaper in stores but this is not about purchasing it is about showing support. Amber Kasturi is also available for a slightly higher donation.
Crystal Lady Greeting Cards
The Crystal Lady is a bronze sculpture that is 19 inches in diameter that was created by Leela Bruner. Crystal Lady Cards are 2 for $5 with a photo on the front and back. 5 x 7 with white envelope. They are available with message or blank on the inside. Mailed in a cover envelope.
Loess Hills Nature Cards
The Loess Hills are beautiful 365 days a year and over the past 9 years Leela has taken many photos at the Rainbow's End. These cards are 5x7 with a 4x6 photo inserted and have matching envelopes. Come here and pick out which ones you want or let it be a surprise. Specify season or just go with a random choice. Mailed in a cover envelope - blank inside. Minimum donation $5
Be sure to indicate with your check that you would like a special thank you gift or your gift will be considered to be 'no strings attached'.
For information on what is available and for mailing address.
712-545-3287 leave message on answering machine
Symphonic oboe highlights were compiled as a music appreciation course by Steve Kelly as his gift to Divine Mother. Steve has over 40 years experience in Classical Music.
Crystal Lady Greeting Card message:
May you be blessed with peace, prosperity, good health, happiness and abundant love for every day for the rest of your life.
Ceramic Stoneware Vases are being created with various images that are seen on the Temple. Each one is different and unique in it's own right. They vary in size and we are flexible about the amount of the donation for them..... The ones shown here are in the $35 - $50 range. Sometimes smaller ones are made, sometimes larger. These have all been created by Leela.
Your support of Power of Love Temple and its activities is very much appreciated.
Many other images available- color is better than on this webpage.