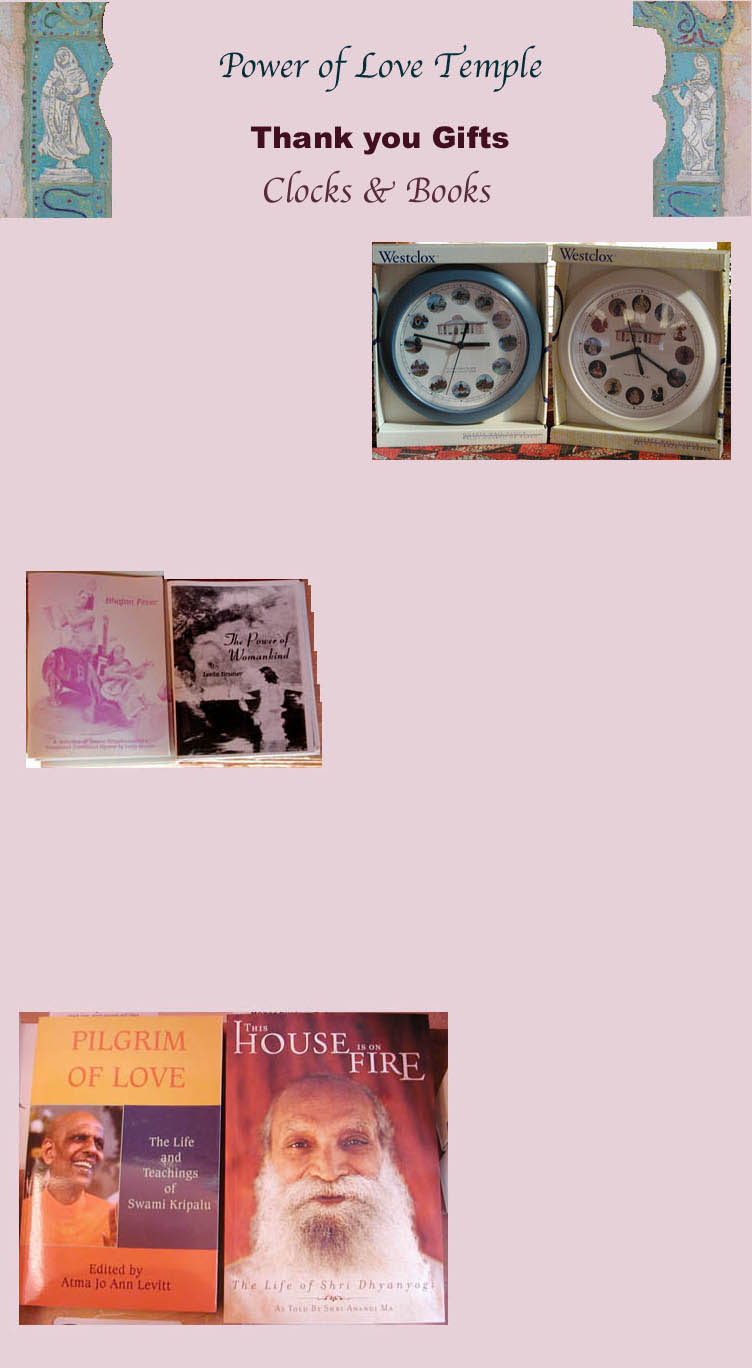 Q. Ever feel like you are in a time warp? What time is it anyway?
A. Time to visit Power of Love Temple.
Gift to the temple $20 and we'll send you a clock with either the 12 jyotirlinga skylights or the 12 interior goddess designs. Battery operated. Specify which clock in the check memo. Send to: Power of Love Temple, 22378 Mudhollow Road, Council Bluffs, IA 51503 USA
These 2 small books were made inhouse. Bhajan Fever is the English Translations of Kripalu's bhajans. This is an old version printed before the temple construction started. Some of the 44 bhajans have changed. (Changes included separately)... Only a couple dozen copies left for this collectors item. Minimum Donation $10 Yet to be published: Bhajan Fever with Gujarati and English side by side.
The Power of Womankind is a book of poetry by Leela Bruner which combines observations of living in nature in these Loess Hills and how nature is reflected in the goddess. Minimum Donation $7
Remember to specify in the memo if you want a thank you gift - otherwise your gift is considered no strings attached.
We also have two books which we highly recommend. Pilgrim of Love: The Life and Teachings of Swami Kripalu by Atma Jo Ann Levitt and This House is on Fire: The Life of Shri Dhyanyogi By Shri Anandi Ma. Support the temple and let us feed your heart by sending these thank you books. Min. donation for Pilgrim $25 and for This House $35. Pilgram has a section about Leela's connection to Bapuji.
Book Review: Atma Levitt's new book about Swami Kripalu is a wonderful collection of stories by and about the lovable and loving saint. I sensed a well of profoundest wisdom behind Bapuji's genuine humility. As I regretfully turned to the last page and read the final sentence, a current of Shakti moved up my spine to the heart level. I thank Bapuji for coming to me through his devoted followers. -Steve Kelley
This House is on Fire The Life of Shri Dhyanyogi as told by Shri Anandi Ma. From the inside flap: He was 100 years old and walked so fast that no one could keep up with him. He has spent 80 years of relative seclusion in rural India, but in the early 1960's he came out into the open, burning with a desire to help ordinary people attain the highest states of spiritual realization. Having undergone many painful ordeals to achieve his own evolution, he hoped to spare others that suffering. Shri Dhyanyogi often urged everyone to take the spiritual gold he had to offer, saying "This house is on fire -- loot all you can!" With this open invitation, he freely gave his energy, training, and experience to one and all without regard for race, caste, religion, or worthiness. All were welcome to share the wealth of his love. Both in India, where he began, and later in the United States, the legacy of this unique saint continues on.