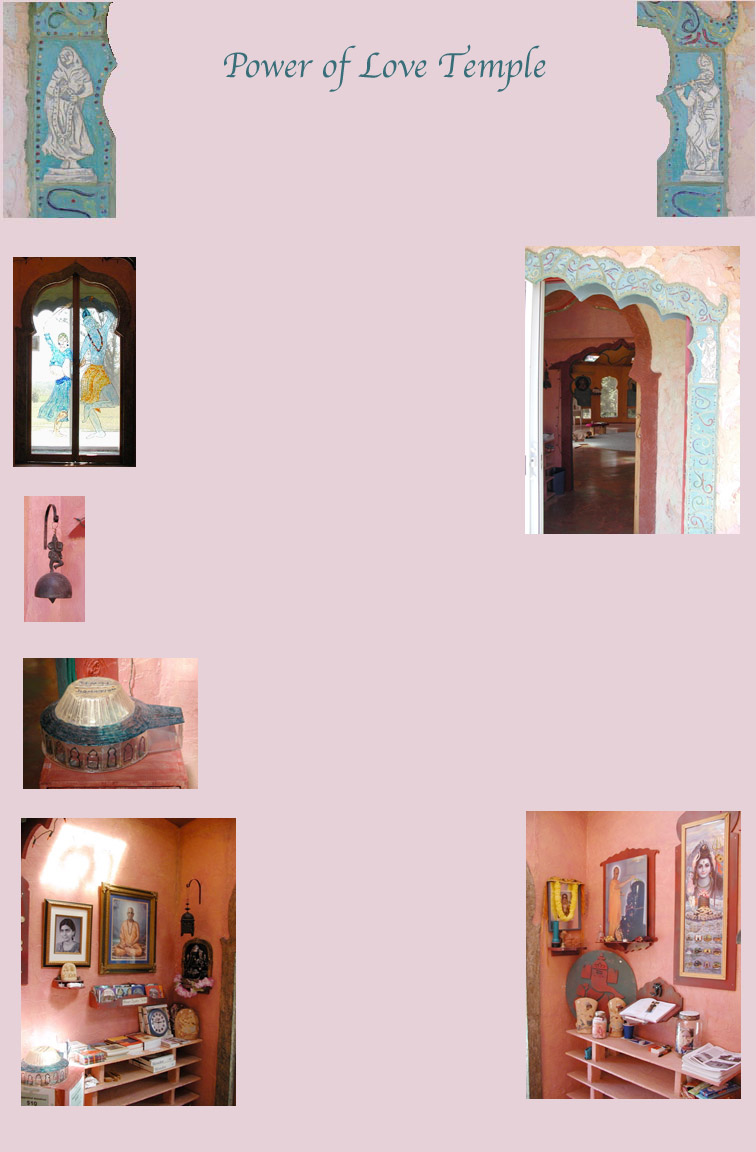 The second set of doors were originally the outside doors. However, as pocket doors and also being in Iowa in the winter, too much cold air entered uninvited. These doors are acrylic and cedar and the image of Krishna dancing with a Gopi was applied with a pseudo stain glass material. This material was also used for all the skylight covers.
There are many things in this entry area, yet most people rush in to main temple after they place their shoes on the shoe racks, which were made by Gary Carlson (Garotica).
In this entry we have a 5 pound bronze bell, made by Leela. The large 30 pound temple bell outside the temple was also created by Leela. There are also shelves with many different c.d.'s that were also made by Leela and by Steve Kelley.
A donation box in a form similar to the temple... made out of 2 plastic plates, a plastic bowl and scrap plastic from the skylight covers unfortunately gets overlooked too often.
Not pictured on this page are the two skylights that fill this part of the entry with natural light diffused through a Sanskrit Om and a painting of Nataraj - the dancing Shiva.
As you pass through the entry you are being blessed on many levels from the subtle darshan (audience) from photos of Kripalu, Lord Lakulish, Lord Shiva with the 12 Jyotirlinga and Anandi Ma (Steve Kelley's guru). Go to Lineage pages to learn more.
Various gift items are available for different donation levels. These include clocks with images of the 12 jyotirlinga; clocks with images of the 12 interior abstract goddesses; vases with images from the temple, c.d.'s - everything from classical musical appreciation to Leela singing bhajans and dhuns in the temple ack-a-pella. Also there are some greeting cards with scenes from the Rainbow's End and other items made from scrap temple materials.